triniti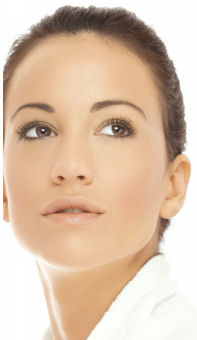 The triniti skin series combines three of today's most effective technologies to achieve total facial renewal. Save time and get beautiful in just 3 treatment sessions.
Each triniti treatment session includes:
Photofacial RF color correction to improve age spots, uneven tone, spider veins and sun damaged skin
Refirme™ skin tightening which targets tell tale signs of aging including: sagging, jowl and neck laxity, sagginess under the eyes and nasolabial folds.
Matrix IX™ fractional treatment for wrinkles
Renew™ Sr/SRA for Color Correction
The SR or SRA (for darker skin types) applicators are intended for skin rejuvenation, a procedure that targets both vascular and pigmented lesions. The applicators are optimized to emit light in wavelengths easily absorbed by hemoglobin and melanin. The targeted vascular or pigmented lesions absorb the heat energy raising the temperature of the target tissue.
Then RF energy flows to the heated area and elevates the temperature to the level required for effective treatment and overall improved skin texture.
The elōs energy of these applicators provides targeted heating up to 0.4 mm in depth. After treatment, vascular lesions fade from sight, while pigmented lesions darken and flake away within a week or so. Effect: Removal of telangiectasia, rosacea, poikiloderma and sunspots for more even skin tone.
Refirme™ for Skin Tightening
The Refirme skin tightening procedure, via wrinkle reduction, features revolutionary elos technology that enables you to comfortably achieve a more youthful, tightened, and lifted appearance without enduring downtime.
The Refirme applicator is intended for skin tightening. Collagen and elastin depletion in the dermis result in the loss of dermal volume, creating laxity and sagging of the skin. The Refirme procedure stimulates long term collagen synthesis as well as the tightening of existing collagen fibers, giving an immediate firmed appearance. The procedure uses a combination of gentle pulsed infrared light (wavelengths 7000-2000nm) and bipolar radio frequency (RF) to provide deep dermal heating, up to 4-5 mm in depth.
Effect: Initially, there is an immediate contraction of existing collagen fibers, but with time, the laxity of the brow, jowls, neck and cheek areas will continue to improve due to the delayed collagen remodeling response.
Matrix IR™ for Skin Smoothness
The Matrix IR applicator is intended for non-invasive wrinkle treatments. It utilizes fractional elōs technology a combination of bi polar radio-frequency (RF) energy and diode laser energy to penetrate into the deep dermis, down to 2.5 mm. Aging skin is characterized by collagen and elastin depletion in the dermis, resulting in loss of dermal volume, which manifests as wrinkles or sagging skin.
The laser energy is delivered in a form of micro-beams creating matrix thermal bands. This fractional energy enables the introduction of more focused energy into demarcated zones in the dermis to denature and remodel collagen, leaving reservoirs of intact tissue to assist the healing process and the collagen renewal. The undamaged, but mildly heated tissue (the healing reservoirs) facilitate the healing process by serving as an activated reservoir of fibroblast cells promoting quicker healing of the damaged zones with no down-time and promoting synthesis of collagen in-situ.
Effect: Heat conducted to collagen fibers stimulates a short-term reaction of collagen contracture, followed by a long term process of new collagen remodeling, a process which is facilitated by the undamaged tissue. The Matrix IR treatment results in improved appearance of facial and neck wrinkles and rhytids.
Commonly asked questions:
How many office visits are required?
Triniti saves times as all 3 components can be performed in a single office visit. Typically , 3 visits are required to complete the triniti program.
How long is treatment duration?
Total triniti treatment time is approximately 60 minutes. If the neck is also treated allow another 15-30 minutes. Typically 3 -5 sessions are spaced 4 weeks apart are performed. One touch -up session may be needed every 6 months.
Does It hurt ?
Most patient easily undergo the treatment procedure. A topical anesthetic cream is available to increase your comfort. Many patients return to normal activities immediately after treatment.
Is it safe?
Treatment is safe for most skin types and colors.
When can I expect to see results?
Most people see a gradual and continual improvement over the course of their initial treatment.