Collagen Induction Therapy (CID) starts by using Microneedling to create micro-wounds in the dermis. These channels allow Hyaluronic Acid or our bodies own PRP (Platelet Rich Plasma) to be driven deep into the skin. This process increases the skins ability to utilize the nutrients by up to 3000%. The micro-wounds trigger the body to produce new collagen and elastin. The results are improved skin texture and a reduced appearance of wrinkles, stretch marks, and acne scars.
WHAT IS MICRONEEDLING?
Micro needling treatment uses a hand held needle pen to create controlled depth micro-injuries to the skin. This stimulates the skin's natural repair process to produce collagen and elastin.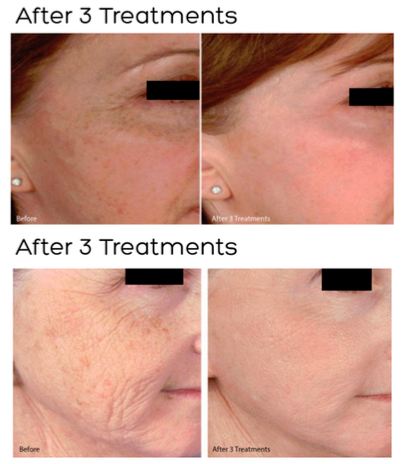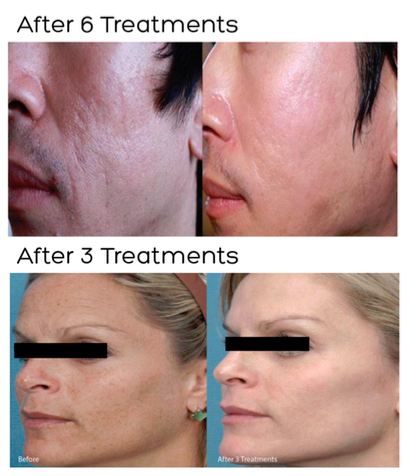 Before and After MicroNeedling
WHAT IS PRP?
Platelet Rich Plasma is the part of your blood that helps to clot a cut. These little "power houses" release proteins called growth factors which stimulate new collagen.
We take your blood and spin it in a centrifuge, which enables the separation of the blood cells from your plasma and platelets. This is then re-injected into the skin to stimulate collagen and new skin cells. PRP harnesses the beneficial functions of the patients own platelets and therefore there is no risk of allergy or rejection of the treatment. The combination of PRP and Microneedling is also called the Vampire Facial™.
WHO IS A GOOD CANDIDATE?
Anyone that wants to improve skin irregularities and look younger.
HOW MANY TREATMENTS DO I NEED?
A single procedure will make a nice change but a series of 3-6 treatments is ideal for optional results.
HOW MUCH DOWNTIME WILL I EXPERIENCE?
The majority of patients skin will be red and flushed for 12-24 hours.
WHEN WILL I SEE RESULTS?
Within 2 weeks you will start to see change that will continue for 3 months.
TREATABLE CONDITIONS
Mild to Moderate Acne scarring Fine Lines and Wrinkles (great for around the mouth and crows feet)
Loose & Lax Skin
Skin Tone and Texture
Pore Size
Sun Damaged Skin
Superficial Pigmentation
Hypo-Pigmentation
Surgical Scars
Stretch Marks
Hair Loss